Vita-B Enzyme Polish-Nourishing Dual-action Exfoliator.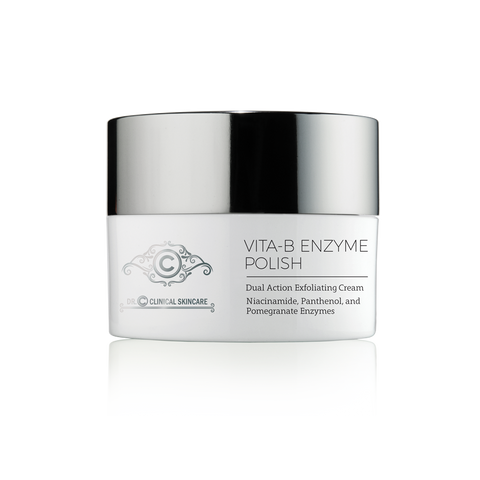 Vita-B Enzyme Polish-Nourishing Dual-action Exfoliator.
Description:
Vita-B Enzyme Polish
Nourishing dual-action exfoliator.
A lightly textured exfoliating cream featuring pomegranate enzymes and eco-friendly polishing powder
that gently remove dead skin cells and refortify the skin surface. Niacinamide (Vitamin B3) and
panthenol (Vitamin B5) restore firmness and vitality to the skin by repairing the skin barrier, reducing
inflammation, and providing superior moisturization. Plus, soothing botanical oils create a visibly
smoother appearance.
Benefits  Gently polishes dead cells at skin surface to smooth and brighten for a more radiant
complexion.
 Strengthens the skin barrier against harmful environmental agents and fights against damaging
pollutants.
 Antimicrobial and antioxidant benefits that hydrate skin as you exfoliate dull skin surface.
 Helps appearance of acne scars and helps clear breakouts.
 Aids absorption of other skin care products.
Featured Ingredients  ECO-FRIENDLY POLISHING POWDER: Naturally derived exfoliant extracted from renewable
resources helps remove dead skin cells for a polished, smooth skin surface.
 POMEGRANATE ENZYMES: Natural fruit enzymes that originate from pomegranate pulp and
gently remove dead skin cells from the skin surface to produce softer, more radiant skin.
 NIACINAMIDE: A form of vitamin B3 that offers anti-inflammatory and barrier repair benefits
while reducing skin sensitivity and providing intense moisturization.
 PANTHENOL: Provides the powerful hydration of vitamin B5, along with the ability to visibly
smooth and soften the skin.
 BOTANICAL OILS: Nourishing skin-conditioning agents stemmed from extracted safflower plants
containing antioxidant vitamin E and obtained by inner flesh of a coconut for superior
moisturization.
Directions
Clean face thoroughly with Chamomile Facial Cleanser. While still damp, massage Vita-B Enzyme Polish
gently onto skin using a circular motion for 1 to 3 minutes. Allow to sit for 10 minutes, and then rinse with
lukewarm water.
Ideal for use as frequently as once per day. For best results, follow the CosMedical Vita Method by
applying Vita Soothe and Vita-C Peptide Spray after exfoliating.
Ingredients
Water (Aqua), Polyhydroxybutyrate, Carthamus Tinctorius (Safflower) Seed Oil, Glycerin, Cetyl Alcohol,
Stearic Acid, Sodium Lauroyl Sarcosinate, Glyceryl Stearate SE, Lactobacillus/Punica Granatum Fruit
Ferment Extract, Sucrose Cocoate, Niacinamide, Panthenol, Cocos Nucifera (Coconut) Oil, Carrageenan,
Carbomer, Sorbitan Stearate, Sodium Hydroxide, Phenoxyethanol, Ethylhexylglycerin.