Vita Soothe - Protective Replenishing Serum - DR.C Pharma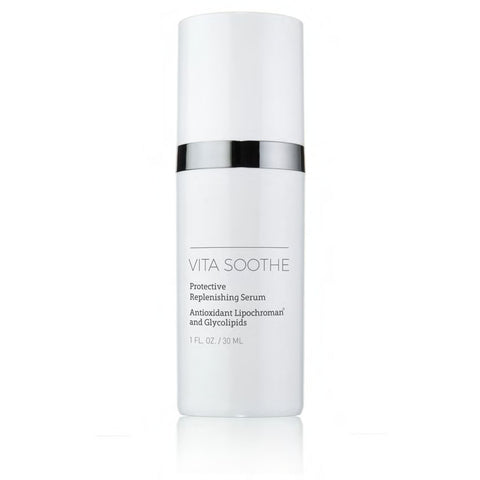 Vita Soothe - Protective Replenishing Serum
Description:
Replenishing serum with glycolipids and vitamins E and F provides instant glow and smoother, plumper skin. Antioxidant Lipochroman® protects from environmental aging. Safe for acne-prone skin.
BENEFITS:
Protects against environmental damage with antioxidant Lipochroman®
Hydrates and firms skin with replenishing vitamins E and F  (omega-6 essential fatty acids)
Helps reinforce the skin's natural lipid barrier to protect it from environmental hazards
Imparts an immediate smooth texture to your skin
FEATURED INGREDIENTS:
Antioxidant Lipochroman®: oxygen and nitrogen free radical formation is now recognized as arguably the leading cause of skin aging changes, including wrinkles, uneven pigment, loss of elasticity, and skin redness. The oxygen free radical fighting capabilities of Lipochroman® are the strongest on the market, at over 11 times the strength of Idebenone*. While other antioxidants do not protect against nitrogen free radicals, Lipochroman® is a double-action antioxidant that protects the skin from oxygen and nitrogen free radical sources, providing enhanced clinical improvement.
Glycolipids: help to trap moisture by mimicking the molecules foundin a baby's skin. Glycolipids prevent water from escaping at the skin's surface.
Vitamin E: lessens redness, hydrates, and smoothes skin texture.
Vitamin F (Linoleic and Linolenic Acids): omega-6 essential fatty acids that replenish moisture to soften and visibly firm dull, rough skin with continued use. Vitamin F also helps to normalize hormonal skin.
PROFESSIONAL RECOMMENDATIONS:
To amplify your results, use Vita Soothe as part of a complete skin care regimen. Precede with a medical grade cleanser and follow with your favorite moisturizer, such as Ultra Benefits® or AHA Marine Moisture Crème.