AHA Marine Moisture Creme with concentrated Glycolic Acid - DR. C Pharma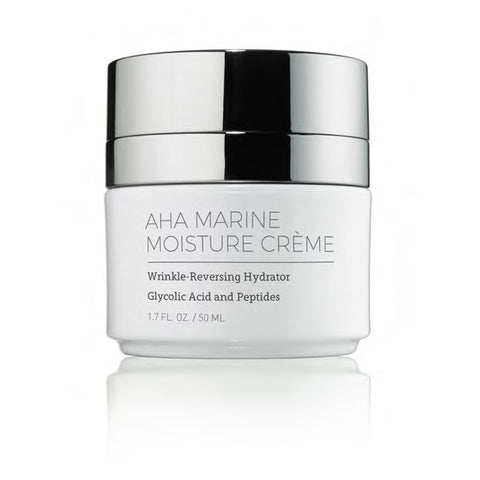 AHA Marine Moisture Creme with concentrated glycolic acid lessens wrinkles. Skin-firming marine peptides increase luminosity and improve texture
Description:
High-potency moisturizer with concentrated glycolic acid at low pH visibly lessens wrinkles. Skin-firming marine peptides increase luminosity and improve texture

BENEFITS:
Benefits of twice daily use for four weeks:

FEATURED INGREDIENTS:
15% Glycolic Acid: pure glycolic acid strips away the dead skin cell layer which uncovers the youthful glowing skin under the surface. It also increases hyaluronic acid, a natural water-trapping molecule in our skin that diminishes with age. For enhanced penetration into the skin, AHA Marine Moisture Crème is formulated at a low pH (3.5).

5% Algae Firming Peptides: derived from Hawaiian red sea algae, this ingredient promotes collagen formation to smooth skin creases. It also hydrates the skin and increases cell renewal, resulting in thicker, firmer skin.
PROFESSIONAL RECOMMENDATIONS:
To amplify your results, use AHA Marine Moisture Crème as part of a complete skin care regimen. Precede with a medical grade cleanser and a treatment serum, such as C-Stem®. For sensitive skin, apply Vita Soothe prior to applying AHA Marine Moisture Crème. Follow with your favorite SPF product in the morning, such as Replenishing Sunscreen - Broad Spectrum SPF 36 or Daily Replenishing - Broad Spectrum SPF 30+.